"A real life experience"
– Testimony by Mr. Sridhar Ramachandran, South Africa
Day Zero in Cape Town – What happened ?
Day Zero was first announced by the City of Cape Town in 2017, the 2018 date for Day Zero has been changed numerous times – March, May, then forward to April, pushed back to June, and later to July 9 2018.
Day Zero was Cape Town's imminent doomsday, the date the taps may run dry and residents begin queuing for water. Day Zero is a planned response to the worst drought the city has experienced in 100 years.
Capetonians were warned that if residents continue to use more than 50-litres per day per person, the City may have to switch off taps on day zero.
What you can do with 50 Liters of Water?
Although the chart explains how you can use 50 litres of water effectively per day, it may be practically impossible to rigorously follow it. If you are not really careful 50 litres of water can be finished within minutes.
For several months in a row with day zero approaching, the rationing water strategy of City of Cape Town achieved to pass this doomsday without closing the taps.
This was a big success achieved by constantly educating people and creating awareness.
Courtesy: Think water – City of Cape town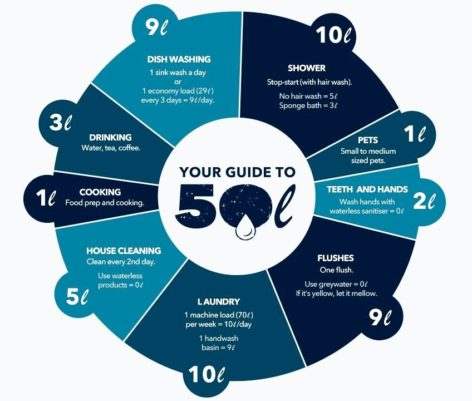 Alternative options for water
Bottled water for drinking (transported to Cape Town from other parts of South Africa) was always available but not always affordable to all. Alternative water sources are groundwater and desalination.
Towing an iceberg from Antarctica:
Nick Sloane, a marine salvage expert says towing an iceberg from Antarctica over 2,000 kilometers to Cape Town could solve the problem.
The ideal iceberg would need to be one kilometer in length, 500 meters across and 250 meters deep with a flat surface. If successfully towed, melted water from the iceberg can potentially provide 150 million liters of freshwater every day for a year.
While it won't solve all of Cape Town's water problems, it could make a huge dent and supply up to 30% of the city's annual needs, Sloane estimates.
Although, cape town came close to having to turn off the taps, they managed to avoid it. After better rains in 2018 and significant reduction in water use across the city, the dams are now reassuringly fuller than they were in 2017 and 2018, although caution is still needed ahead of the winter rains.
Day Zero can return again due to rising global temperatures, make droughts in the region more likely (or) if the usage exceeds the availability.
WE HAVE TO GET USED TO
USING LESS WATER
ON A PERMANENT BASIS
Click here to read the complete testimony